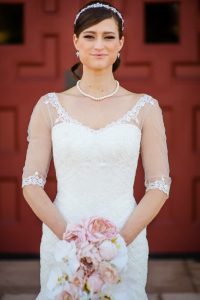 I bought my dress from the Bustle in Del Mar. My consultant knew very quickly after watching me pick apart the smallest details of every dress that Roxie was my tailor. I managed to find my perfect dress and ordered some extra fabric and lace to have a custom matching bolero made for the church ceremony. My consultant gave me a few other options for a tailor, but knowing how talented and detail oriented Roxie is, my consultant STRONGLY recommended I go to Roxie.
The first time I met with Roxie I was impressed. She noticed the little things (that many did not see) before I had to say anything. She was clear about what we could do and how much it would cost. I wanted more fullness at the bottom of my trumpet gown so instead of using the slip the boutique had suggested I purchased she sewed in some beautiful extra crinoline that she had and did not charge me for the fabric!
During each of my 5 or 6 subsequent visits (all included in quoted price) my dress because a work of art made to fit my changing body (I gained a little weight when my husband came home from deployment oops) perfectly. She never seemed frustrated with me for changing or blamed me for my dress not fitting. She took each change with a deep sense of professionalism.
When it came to my bustle, I was amazed. I never liked bustles, but they are a specialty of Roxie's. She created a bustle that made my dress not even look bustled! My bridesmaids were surprised to hear about the 50 knots they would have to tie to make my crazy long train go away without taking away from the dress, but at my last appointment, I took two who learned quickly under Roxie's guidance on how to bustle my dress. We had no issues bustling on my wedding day.
As for my bolero, Roxie made a stunning bolero that fit in perfectly with my dress. After talking over options, Roxie made my bolero lightly stitched into the top of my dress so that it looked like part of the gown. Roxie taught my MOH how to pull out the stitching to take the bolero off. There was no injury to my dress and it looked perfect!!
By the end of my visits, I not only had the perfect dress, bustle and custom designed/made bolero, but I had made a new friend. Before meeting Roxie, I thought I was the one who cared most that I looked perfect on my wedding day, but I learned Roxie actually cared more. Rather incredible given my personality and how important looking perfect was to me. Roxie isn't the cheapest, but think about this…. why spend a bunch on a dress and have it not fit you right or have bad sewing or a ugly bustle when you spend the whole reception bustled? Roxie is a gem and worth every penny. She loves what she does and truly cares about her work and her brides.